Get to Know Chef Matthew Barone!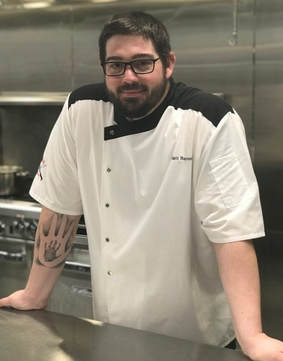 The start of the new 2020-2021 school year officially began about three weeks ago. It is an unusual start as the Kearny School District is doing remote learning for the time being. A lot of changes have occurred here at Kearny High School, one of them being new additions to the teaching staff.
A returning chef instructor is Chef Matthew Barone. Chef Barone had aspirations of working in the culinary world at about the age of 11, where he grew up cooking in his home. When he reached the age of 17, he started working in restaurants, one of them being Cappuccino's By Coppolas in Upstate New York. From thereafter, Chef Barone would go on to work in the Hospitality Industry for the next 15 years or so at various companies such as WISH in Miami Beach, Fresh Direct, and Hearst Tower in Manhattan, New York.
As a change of pace, Chef Barone started teaching in the year 2011. In fact, Kearny High School became the first place where he started his teaching career. For a total of seven years, he was able to take part in transforming the successful culinary program that we have here at Kearny High.
In 2018, Chef Barone finished his graduate studies in Educational Leadership in hopes of becoming an Administrator. He started working at Union County Career & Technical Institute as an Assistant Principal for two years. Although he enjoyed this new experience, Chef realized that his heart belonged in the kitchen classroom. The culinary teaching position at Kearny High was open this year and he was happy to return: "Kearny took a chance on me when I had no experience as a teacher, so this will forever be my home." When asked what his favorite part when teaching his students about cooking is, he stated, "My absolute favorite thing about teaching is being able to see a student achieve. The "Ah-Ha" moments are confirmation that I did my job well."
With the guidance of his chef instructors and mentors, Chef Barone was able to pave his way in his culinary career. It is fair to say that his career has been nothing short of successful and he will continue to leave his mark here at Kearny High School.