Halloween Is On!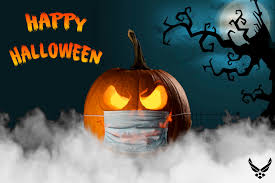 October 5th Governor Phil Murphy issued a tweet stating; "Halloween is ON. 
@NJDeptofHealth is releasing guidance today for local officials, schools, and outside organizations & businesses to help ensure a safe Halloween for our communities. You may wish to dress as a knucklehead this Halloween, but we don't want anyone to act like one." However, this vague message was issued at the beginning of the month, and at the time of this article, Halloween is this upcoming weekend making it increasingly relevant. It's been left in part for individual towns to interpret the Governor and the NJ Department of Health's guidelines. Some towns have implemented curfews while others banned trick-or-treating entirely suggesting safer alternatives. Kearny is following statewide recommendations identically.
 For those interested in trick-or-treating this year: 
avoid trick-or-treating with people outside of your household, 

stay local

 limit route

Social distance from people you do not live with 

Wear a cloth mask at all times except for children under 2 years old (costume masks aren't sufficient) 
Bring hand sanitizer with you to disinfect after each door 
For households leaving out treats:
arrange individually packaged candy 

avoid reaching into a shared bowl ( that can cause contamination)

wear masks unless under two.

All candy/treats are to be commercially packaged and non-perishable 

Consider turning off lights or posting signs to indicate if your household will be giving out candy 
Halloween Parties
Avoid large gatherings

Try to limit gatherings to outdoors only 

Avoid coming in close contact with anyone  

Don't share items or participate in activities such as bobbing for apples

Wear a mask and social distance 
Keep in mind the CDC considers Trick-or-treating, trick-or-trunks, indoor costume parties, haunted houses, Hayrides/tractor rides (with people outside our household), and going to events outside of your community to be high-risk activities. Although in Kearny they aren't prohibited, they are not encouraged or advisable. 
Another thing to keep in mind before attending a party or going trick or treating this year is the rise of COVID cases in Kearny. Since the beginning of October, there has been a significant increase. From May to September 28th cases per day were no more than 4. However, Since that time cases per day have increased significantly. Staying in a range of 1-21 new cases per day. High-risk activities generally may not be a good idea for Halloween. 
Instead, the CDC's recommendations for  alternative low-risk Halloween activities are:
Carving/ decorating pumpkins with family or with friends while social distancing outside

Putting up decorations 

Halloween/horror movie night with family 

Virtual Halloween competitions 
Halloween Activities to consider: 
KHS Halloween Costumes contest 
-email [email protected] a picture of your costume 
-prizes: Starbucks gift card & candy basket 
-deadline: October 31st 
***Must be school appropriate
Virtual Halloween Animal Show (Kearny Public Library
-October 29th @3pm
-link virtual Halloween animal show (Zoom)
-Password: Halloween