Kearny Advances to Finals After Winning the Semifinals! (11/16)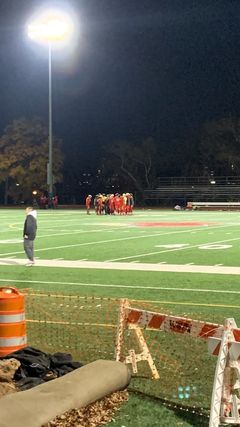 Kearny has beat their time record! The semifinal state tournament match against Elizabeth started at 4 pm, but ended around 6:50 pm! If that isn't a long game, what is? With extra golden goal opportunities and penalty kicks, the game kept dragging the timer. If you couldn't get a ticket or make the time, here is what went down at the NJSIAA semifinal round with Kearny vs. Elizabeth. 
Forty minutes on the clock, players feel relaxed and energetic, and the game starts! Who will score first, who will dominate the game? The easy answer, Elizabeth. Right after the 10-minute mark, Elizabeth scores, and their fans cheer. With Kearny dispirited, the game looks to be hopeless, but the attacks keep on coming. If anything, Kearny's teamwork is the best in the state so far. Just as Kearny lessens their attacks, Elizabeth scores at the 34-minute mark, making the score 2-0. One of their longer attacks had about 6 passes back-to-back, confusing the other team and raising tensions with the crowd, but a successful goal was not scored from this. Hopes are down, no Kearny goals, but 40 minutes can change the game. 
Now in the second half, not much changes because Elizabeth is a very consistent team. Here, at a few minutes in, Kearny makes a pass and scores! Loud cheers, fans jumping, the stands brought to life again! The scoreboard reads 2-1, finally a chance at winning! One of our best goals was apparently disqualified, though the reason was not announced. Everyone was disappointed at the thought of evening the score. A constant tension sits on the field, defense playing for their life and offense wishing for an open window. Then, a miracle! At 1:15 to the end, Kearny uses all their offensive power and shoots for a goal. The goalie, further along in the box, misses his chance, and GOAL!! Running around the field, a tie! The golden goal periods start, but nobody scores in two 10-minute opportunities. 
Finally, the penalties start, and kicks are even 4-4 until the pressure breaks and Elizabeth misses their chance. Securing it with another kick after their mishap, Kearny wins the semifinal round for the NJSIAA tournament! Looking forward to seeing them play in the finals soon, keep wishing them success in games! 
(All photo and video credits go to Glenda Arenas)