Powderpuff 2021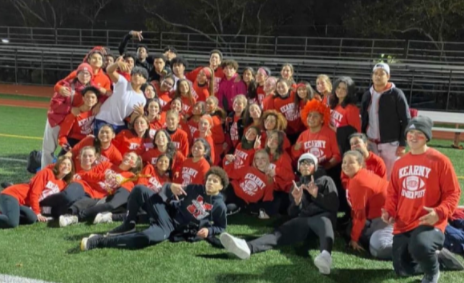 After being cancelled last year due to COVID-19, one of KHS students' most beloved traditions, powderpuff, prevailed this year! In a game of flag football between the Junior and Senior class girls being cheered on by their male classmates, class rivalry was at its peak. The week of intense practices for both football and cheer teams prepared each for the ultimate battle of class rivalry!
On Wednesday night, the Juniors came out on top with their flag football win of 44-18 against the Senior girls. Juniors Ava Hyams, Julia Arujo, and Emily Horvat each scored one touchdown, while Maci Covello gained 2, and Paige Raefski collected 3 by the end of the game. Senior Andrea Toledo scored one of the touchdowns for the Senior team.
Supporting the flag football teams were the cheerleading teams who chanted, cheered, and danced all throughout the game without any break in their expressions of school spirit. With a cheer squad of only 9 cheerleaders, the Juniors fired up the crowd with support for the Junior flag football players on the sidelines and during a halftime show. In an energetic and well choreographed routine, the Senior cheerleaders were the true stars of the show. Their performance full of popular music, funny dance moves, and impressive stunts gained applause from everyone in attendance. 
After a year and a half in quarantine, a night full of school spirit was just the event KHS needed to kickstart a great year. Congratulations to both teams for their performance and for opening up our school year with amazing energy!
Photos of the senior class are by @kohlmann.photography on Instagram!