KHS Star Soccer Player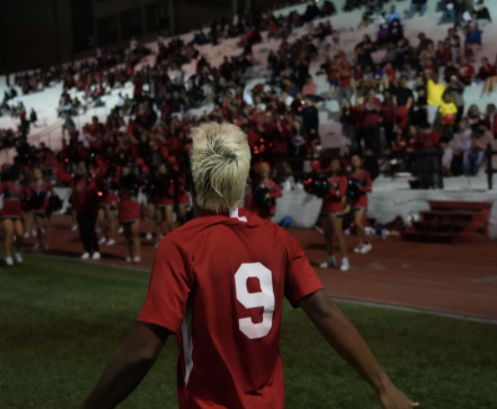 The Kearny High soccer team had an amazing season. After four years, they made it to states and won. We asked senior and Player of the Year, Juan Rojas some questions about the season, what it was like to be on the field, and states. 
1. This being your last season since you're a senior, did you feel like you had to prove yourself in a way?
I felt like I had to prove that not only I could score against weak teams but that I could also make the difference against important teams.
2. How did it feel winning Player of the Year?
Honestly it felt amazing, being able to score a lot of goals and help my team win was special. Getting that player of the year was just as special, it meant a lot.
3. Did you think you would make it to the states championship?
Since the beginning of the season, I knew we were at least going to make it to the final. I knew we had a strong, hard-working team that could make it to the state championship game.
4. When did you know/had the feeling where you were like "Yeah we're making it to states."
Since the first game of the season I knew that we were going to make it at least to the final, I said it in an interview in the first game of the season that we had a team to win states.
5. How'd it felt when you won?
Amazing! This has been my dream since I was in 8th grade, and now that I've won it, I just can't believe it.
6. What was your motivation throughout the season?
My motivation was definitely the state championship. My mind was on that throughout the whole season, not only that but also my family and friends who support me every day.
7. Did the cheers of the crowd affect you and your playing?
I'll say that they are a big part of the performance too because when they start cheering and screaming, we get motivated to play better.
8. What were some of the "rituals" you did before/after games?
Honestly I did not have anything in particular, the only thing that I would say that I always did was pray to God before the game.
9. How did you start playing soccer?
I started playing soccer back in Colombia when I was 4 years old. I've been playing soccer for more than 13 years.
10. How much practice did it take to get where you are? 
It took years and years of grinding. I have been playing soccer since I was 4 so I've been playing soccer my whole life.
11. How did you juggle playing soccer for school and going to school at the same time?
It was hard because practicing every day after school, also games and doing some traveling, it was hard but you just gotta push through it.
12. How does it feel to be part of a team? 
I just feel amazing, being part of this team that I call "my second family". I love that team to death and I will never ever forget what we did.
13. Do you have any advice for the players of the soccer team once you graduate? 
Honestly, to stay focused on what you actually want, do not let anyone or anything stop you from reaching your dreams. Be honest with yourself too, the best thing you can do is be honest with yourself and do what you like, because at the end of the day no one else is going to live our lives.