Ms. Gonzalez: KHS Teacher of the Year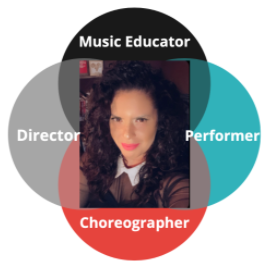 Every year, the Kearny school district chooses one teacher to be named the Teacher of the Year as a recognition for educators that constantly go above and beyond for their students and school community. This year, Ms. Gonzalez, who teaches chorus, directs the musicals and plays, and runs the singing group, K-Birds, at KHS, was awarded with this recognition. Ms. Gonzalez offers insight on her teaching career and what being awarded this recognition means to her as an educator.
How does being awarded this recognition make you feel? 
Being named Teacher of the Year brings me an overwhelming sense of pride. There are approximately 140 teachers at Kearny High School to choose from so the fact that the administration thought I was worthy of the accolade makes me feel like my hard work has finally paid off. I am grateful for this opportunity and it motivates me to continue doing my best.
What pushed or inspired you to pursue a career in education?
I have always loved the performing arts, but it was not until college that I considered a field in teaching the art form. At that time, Dr. Warren was the coordinator of Music Education at New Jersey City University and kept telling me that I would make an excellent music teacher. I did not have the confidence in myself, but she was a revered professor in the department so hearing those words of encouragement from her definitely inspired me to pursue the career.
What are you most proud of when it comes to your teaching career? 
While winning awards and putting on great performances brings me a sense of fulfillment, it is the moments others are unaware of that bring me the most joy.  I feel a tremendous deal of pride when my students have "breakthrough" moments. For example, a student with severe anxiety who finally sings a solo after struggling with stage fright for the past 3 years or a student who finally masters a choreography combination after being unable to do so for a few weeks. The audience only gets to see the final product, but I am lucky enough to see the process and so much growth happens behind the scenes.
Do you have any future goals for your career? 
I am a perfectionist when it comes to my field and am very competitive when it comes to topping my own performances/records. I have set a personal goal to win every category at the annual Hudson County Alliance of Teen Artists competition. As of last year, I did achieve my personal goal. However, this year they created a new "open category" which I hope to conquer eventually. Additionally, I am working towards certification in Supervision and Administration and would love to open my very own performing arts academy in the future.
What advice would you give to people who are interested in becoming educators?
My advice to future educators is the same advice I would give to anyone making a major life decision: do all things in love and pursue something you are truly passionate about. Many people are pushed to pursue other avenues because they are more "financially stable" but end up leading miserable lives. Not every day will be a good day, but if you do something you truly love, those "bad days" will be more tolerable. I love what I do and no matter how hard some days get, I always feel lucky that I get to teach a subject I am truly passionate about on a regular basis.