SAT Guide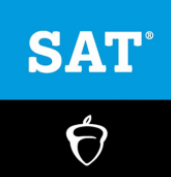 With high school years flying by, the urgency to begin a plan for our future as students is growing rapidly. Figuring out which standardized tests to take and signing up for them can be daunting and confusing for students, especially those who are first-generation college students. As a way to alleviate some of this stress, here is a guide for the SAT including how to sign up and some accessible study resources!
To begin, there are multiple ways to sign up for the SAT- the easiest and most accessible way being through CollegeBoard.org. If you have a College Board account, you can login, select the SAT section, and register online. On the College Board website, you will be met with multiple SAT registration dates and their respective deadlines, which will enable you to choose which testing dates are best for you.
Many people have an SAT tutor or even take SAT prep classes. While these study methods are very helpful, they aren't accessible to everyone. Free personalized study guides can be found online as a way to prepare for the SAT without having to cause financial stress. College Board offers free SAT practice tests and study guides that cover all aspects of the SAT, math, reading, and writing and language. In addition to these resources, there are many helpful tips on the College Board Website including how to start a study plan for yourself, how to submit your scores, and even what to bring on test day. Similar to College Board, Khan Academy provides free individual study plans that include instructional videos based on your strengths and weaknesses present in past assessments, like the PSAT or previous SAT. On Khan Academy, you can sign into CollegeBoard.org and send in your test results in order to get a relevant and informative study course that targets the subjects you want to improve on.
Overall, signing up for standardized testing can be intimidating and overwhelming, but by registering early and obtaining study resources, you can put yourself on track for future success.