Updated Vaping Policy at KHS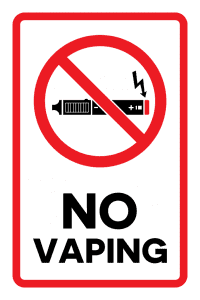 In accordance with the Board of Education, the vaping policy has been updated. The policies listed below have taken effect on February 23rd. Students are prohibited from vaping inside of the school or on school property. 
For the first offense, the student will face a one day suspension with an in person parent conference with the administration. The student will be required to take a mandatory drug screen after leaving the school premise. If the student participates in a sport, the student is no longer allowed to participate in the rest of the season. If in clubs, the students are no longer allowed to participate. A three hour Vape Educate course must be completed before the student can return. Any students with a vaping infraction will not be allowed to attend prom, dances, or other after school activities. Lastly, a student caught vaping will be fined $250 by the Kearny Health Department.
For the second offense, the student will face the same consequences with two differences. The suspension will increase to three days and the fine will double to $500. If a student is caught a third time, the student will be referred to the school board for a possible expulsion. Additionally, the fine will double once again to $1000.
If you know any student who is vaping, please let them know of the consequences that are imminent if caught. The quote used by the administration is "If you choose the behavior, you choose the consequence."