Gaming with Mr. Beast Experience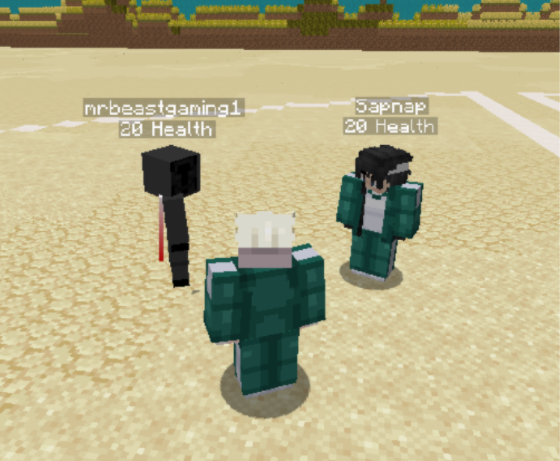 Mr. Beast is an online Youtuber and philanthropist known best for his videos where large amounts of money are spent or given away to competitors. As of October 2021, Mr. Beast's main channel has over 71.5 million subscribers and over 12.8 billion views.
A few weeks ago I was sitting at my computer and I suddenly got a notification on my phone telling me that I had been selected to be in a video for the Mr. Beast Gaming channel. The premise of the video was that the selected people would compete in a series of challenges inspired by the show Squid Game but in the online game, Minecraft. The winner was to get $45,600. I then joined a voice chat with the competitors and hosts and joined the Minecraft server.
When I joined the server, around 150 people were playing and I noticed some other popular Youtubers like TommyInnit, Sapnap, and Dream. Once everybody was in, they started the challenges and I succeeded in the first three.
For the fourth challenge, we had to select a partner and gamble wool blocks in a way that we both agreed on. I chose Sapnap as my partner, and we did a throwing contest. The person that threw the wool the farthest would win the wool blocks. I lost the throwing contest, however, Sapnap felt bad and told me that if he won he would give me part of his earnings.
The remaining competitors then went through two more trials to determine the winner. The final challenge was an intense battle between three people. Sapnap was one of those people and he ended up winning the battle and the $45,600 prize. I was then summoned and informed that Sapnap would like to give me $10,000. In addition, he gave the two runner-ups $5,000 each.
When I learned that I was going to be receiving $10,000, I freaked out and immediately told my friends. It is still crazy to think that I was so lucky to not only be in a Mr. Beast video with content creators that I love, but also win a prize. Overall, it was one of the most insane experiences of my life, and I will never forget it.
You can watch the full video here: https://www.youtube.com/watch?v=s72dhTVYKtM