Chef Barone Appointment to SPFSAC!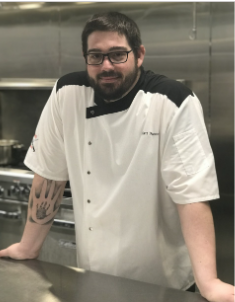 Chef Matthew Barone has recently been appointed to the Sani Professionals Food Safety Advisory Council. I had a chance to email him and ask him a few questions about his new position and how this opportunity will be demonstrated through his teaching. Congratulations Chef Barone!
Can you explain briefly explain your role at the Sani Professionals?
The role of the Sani Professional Food Safety Advisory Council is to raise awareness in the prevention of foodborne illness across multiple food service operations, including education.  The mission is to be at the forefront of public health through safe food and guest satisfaction.  My role specifically, is within food safety education.  One main task that I will be working with the council on, is developing tools and resources to ensure compliance with food safety protocols.  A big reason why I was appointed to the council is because of the success we have had in KHS Culinary in ensuring students learn the necessary food safety protocols and earn the industry credential of ServSafe Manager.  This credential must be held, by law, in all food service operations and we have had a great deal of success in ensuring our KHS Culinary students not only earn this certification, but are able to apply it successfully as they enter the hospitality industry.
How long have you been teaching at KHS and which classes have you taught?
I started teaching at KHS in 2011.  I left to take an Assistant Principal position at a County Vocational School in 2018, but returned to Kearny in September of 2020.  I enjoyed my time as an administrator and was successful in the role, however, my passion is teaching culinary arts, so that is what inspired me to return home to Kearny High School.
Have you ever worked at a restaurant?
I spent roughly 15 years in the hospitality industry working in restaurants, hotels, butcher shops, and industrial kitchens.  I have been fortunate to be able to work in food service operations all over the country.  I loved working in restaurants, don't get me wrong, it is incredibly hard work, but I always look back fondly on my time in the industry.  Oscar Wilde said, "To live is the rarest thing in the world. Most people exist, that is all."  I can attest to this as working in the hospitality industry is definitely one in which you truly live your life. 
How does it feel to be appointed to this position?
I am humbled by the appointment to the council.  It's funny, I look at the people who are on the council and they are directors, presidents, vice presidents, and managers of major corporations across the country, and I can't help but initially feel that I am under qualified.  However, I also understand the uniqueness of my position, I am a Chef Instructor so my perspective towards food safety compliance is from a perspective that is distinct from the other well qualified members of the council.
Will this affect the way in which you teach your students?
I fully expect that it will.  A crucial part of teaching is to first, be a lifelong learner, so as I learn and grow in my role on the council, it will definitely influence the way we teach students in our cooking programs. By building a symbiotic relationship within the council position and as a Chef Instructor, there will absolutely be an influx of tools, resources, and opportunities.  I have no doubt that among Mrs. Barone, Ms. Cortese and myself we will utilize them to grow our program and reach a wider array of students. Additionally, these tools, resources, and opportunities will provide a deeper level of comprehension for our students that will translate into more success within the hospitality industry.  I am invigorated by the multitude of opportunities within this appointment that can benefit our students, our curricula, and our school.